ANNUAL GIFTS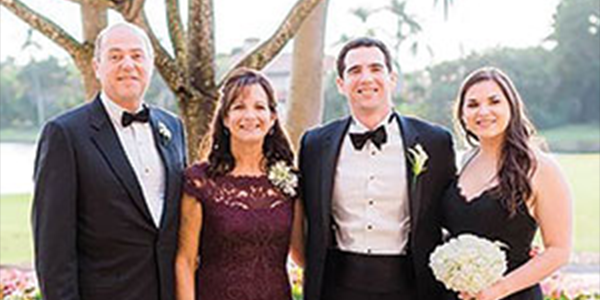 Terence "Terry" McGee, MD, is an ophthalmologist in the U.S. Navy who's grateful for the scholarship support he received to attend Catholic schools while growing up in New York. He is also thankful for the education his children Matthew and Molly received at Bishop John J. Snyder Catholic High School in Jacksonville and the positive impact it had on their lives. In gratitude, he and his wife Erin have made a ten-year pledge to the Catholic Foundation to endow the McGee Family Scholarship Fund, which will provide scholarship assistance to Snyder students in perpetuity. An annual year-end gift from a mutual fund is planned for this that also provides tax deductibility as a gift of appreciated securities.
"We loved the school," Terry says of Snyder. "We thought it was a great foundational experience for our kids that has helped them focus on the important things in life."
The McGees have already established a similar scholarship at the high school Terry attended in Rochester, New York, with that fund named after his parents. "I was the eighth of nine children, and we didn't have a lot of money," Terry recalls. "I got to go to Catholic schools because of the beneficence of other people."
Erin also attended Catholic schools, growing up in Augusta, Georgia, and her Catholic education was equally formative. "My Catholic education reinforced the idea that daily prayer is quite normal for anyone. We feel very blessed to have some small role in helping others deepen their relationship with God."
Terry and Erin are active parishioners at St. Paul's-Riverside, where Terry is a lector and has coached the basketball and softball teams for many years. Erin has served for many years as a board member and fundraising chair of the Parents' Association for St. Paul's Catholic School-Riverside.
Terry expressed concern that more scholarships are needed in order to continue the positive influence of Catholic education.
"A whole lot of people would like to go to Catholic schools because of the quality of the education, but they have trouble affording it," he says. "We are worried that future generations will not have the opportunity that I had. What we are giving is not a huge amount, but over a number of years it will generate money in perpetuity after we are gone to reduce the cost of Catholic education at Snyder. Just about everybody is capable of making a gift like this."