The Order of Augustin Verot
Bishop Augustin Verot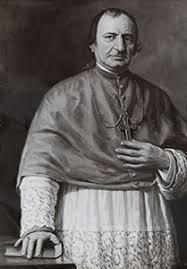 Augustin Verot , first bishop of the Diocese of St. Augustine, was installed in 1870 and served for six years until his death in 1876. During his short tenure, he laid an enduring foundation for God's work in Florida – expanding parishes from 6 to 20, increasing priests from 3 to 11, and founding the Sisters of St. Joseph of St. Augustine. These efforts resulted in the creation of countless ministries and schools, which served the most disadvantaged in our diocese, and whose good works continue today.
The Order of Augustin Verot recognizes the importance of his enduring gifts of faithful leadership and service. In his name, we are now called to make equally enduring faith legacy gifts. Bequests, beneficiary designations, and other planned gifts all sustain the work of our Church, building on the legacy so many have left for us and future generations.
Membership in the Order of Augustine Verot is reserved to those individuals and families who notify the Catholic Foundation they have made gift plans to benefit the Diocese of St. Augustine or one of its parishes, schools or ministries.