TRUST PLAN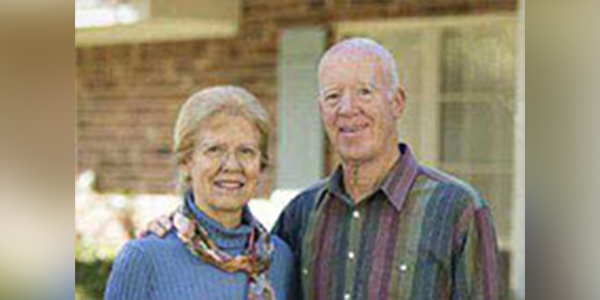 When Jim Knutzen retired about five years ago, he and his wife Sue realized their priorities had shifted from building a life for their family to leaving a legacy.
"We started thinking about things we hadn't thought about before, like what we wanted to do with our resources and how we would do it," Jim said.
This began a year-long conversation about how their values would shape their decisions about what would become of their estate.
Jim said he began thinking about the examples set by three people in his life: his wife, his father, and a member of his parish.
When his mother-in-law died, his wife did something that caught him off guard.
"I felt called to give a third of my inheritance to the parish, Blessed Trinity, in Ocala where my mother, grandmother, and I attended church for years," Sue Knutzen said.
That decision was not unlike the one Jim's father had made about his estate. In addition to leaving money to his four children, Jim's father left money to his church, to his alma mater, and to the American Red Cross.
"We were really proud that he left a legacy," Jim Knutzen said.
Dutch Scholtz, a member of their parish-San Jose in Jacksonville-also served as a role model for the Knutzens and many other members of the diocese.
Dutch was the stewardship director of the diocese for years and helped establish the Catholic Foundation 30 years ago at the request of Bishop John J. Snyder.
"He's been retired for years, but his message is still everything is a gift from God-your life, your health, even the hardships," Jim Knutzen said. "And we respond to God's graciousness with our time, talent, and treasure."
After about a year of conversation and reflection, the Knutzens had a clear picture of what they valued: Their faith and their family.
After making provisions for their two sons and grandchildren, the Knutzens decided to leave money to five organizations: San Jose Catholic School, Bishop Kenny High School, Bishop Snyder High School, the Guardian Schools for student scholarships, and to the Shrine of Our Lady of La Leche for its continued development.
The Knutzens have personal connections with all of them. They have been members of San Jose parish for 40 years. Their sons are graduates of Bishop Kenny, and Jim Knutzen had lectured at Bishop Kenny and Bishop Snyder on the psychology of achievement.
They have also been involved in the Guardian Schools, which supports St. Pius and Holy Rosary schools on the Northside. And the Knutzens have a special affection for the shrine because Sue's family goes all the way back to the original Minorcans who settled in St. Augustine.
As an accountant who has done work for the diocese over the years, Jim Knutzen, a Catholic Foundation board member, said he knew he wanted the money to go into endowment funds at the Foundation.
"As a CPA, I did my due diligence," Jim Knutzen said. "I knew that the Catholic Foundation had an excellent history and investment plan."
In an endowment fund, money is invested and the income is donated to a charitable cause. The Foundation has more than 120 endowed funds with total assets valued at about $30 million. Last year it paid out $929,000 to endowed beneficiaries.
Knutzen gave an example, "If you give $100,000 to the Foundation for Bishop Kenny, that money is invested and four percent is sent to Bishop Kenny each year-forever. It's a permanent legacy."
All five of the organizations that the Knutzens chose have endowment funds at the Catholic Foundation.
Donors also have the option of giving "unrestricted funds," money that is not designated for a particular organization. A committee of the Foundation decides which organizations will receive grants from those funds.
This year the committee gave out $113,100 in grants. For instance, the St. Augustine Catholic Student Center in Gainesville received a grant to purchase a minivan for its Parish Evangelization Team that does outreach to rural parishes.
Other grants enabled young people from the diocese to attend youth conferences including World Youth Day.
"Estate planning is something everyone needs to do," said Cliff Evans, planned giving officer for the diocese.
"If you don't decide where your resources go, someone else will," he said. "We're not here to tell members of our faith community how to give but to help them give in a meaningful way. The Catholic Foundation can help the 70,000 families in the diocese with their estate planning."
"Endowments aren't just for wealthy people," Jim Knutzen said. "It doesn't have to be a lot of money to have a lasting impact. And it's not necessary to rewrite your will; you can change it with a codicil. The bottom line is that once we decided, we had great peace of mind," he concluded.